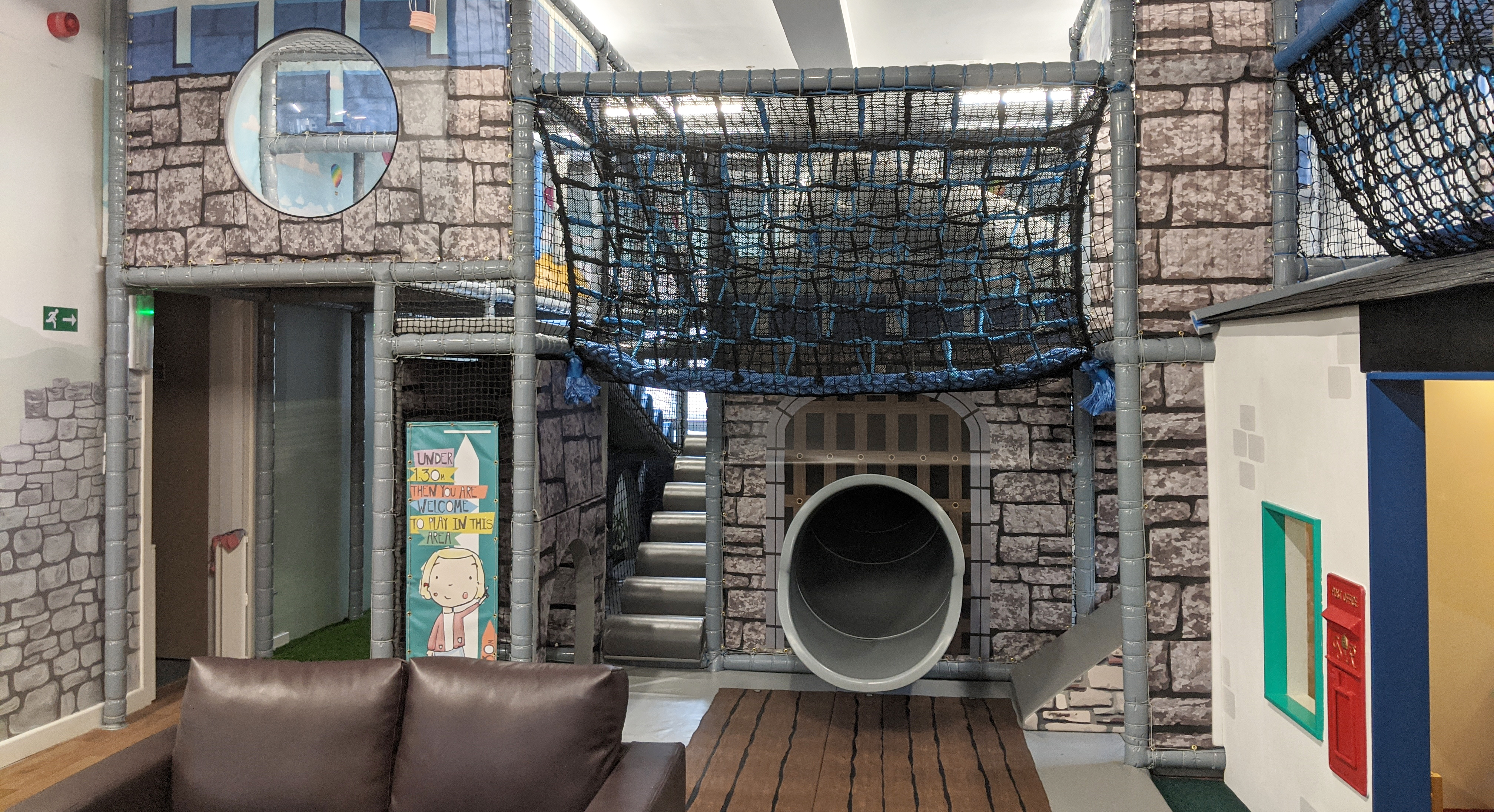 Castle Soft Play
This fantastic version fo Kendal Castle made by Tigerplay packs a lot into the area. Swoop down on the spiral slide, climb up the climbing wall, balance across bridges and ropes, boing high on the trampette, climb up inside our giant tree and across onto Ye Olde Kendal rooftop walkway where you can learn a bit about Kendal's history.
We have consulted local parents and an ASD specialist to ask how we can make this area a great and safe place to play for children with additional needs. This area has been soundproofed and made as comfortable and calming as possible, whilst giving some of the more popular play. It measures around 3X3.6m and we have made use of signs, timers and spacers to try and allow children to feel able to have some control over the space that they can create. This area is available to everyone at quiet times, but has priority of use to children and families who have specific need of it. Also some of the many building blocks can be removed from the area to play elsewhere if desired.
A word about sensory play. Our friends at Aura have got an absolutely AMAZING sensory facility so we have very little in the way of sensory apparatus at Outside-In. We are all about collaboration and we actively promote Aura through the centre. What we wanted to create was a play space, so we have researched play for many different groups and hope we have managed to create something engaging (please give us feedback if not!). However we do have some sensory input available in both the play area and the small quiet space we have available in our quiet office where we have an IKEA Egg chair and a hammock chair and a lava lamp for children in need for some down or quiet time.
Outside Play Area
We are incredibly grateful to Cumbria County Council who have enabled us to revamp the small playground which existed on site. The playground may not be open when the main centre first opens, though we are doing our best. The centre is designed that children are safely contained once in the building and can freely flow from inside to out. We have outside cafe seating and will offer ice creams in the summer… but not yet… BRRRRRRR.